The combination of Cloud Computing and Enterprise Mobility is bringing onto the table opportunities that previously was unattainable. Enterprise Mobility provides employees the ability to work remotely and corporations the ability to manage and secure the platform from which they work. The benefit of enterprise mobility is great by the risks associated with employees working remotely is also huge. We will help manage using Enterprise Mobility Management (EMM) tools.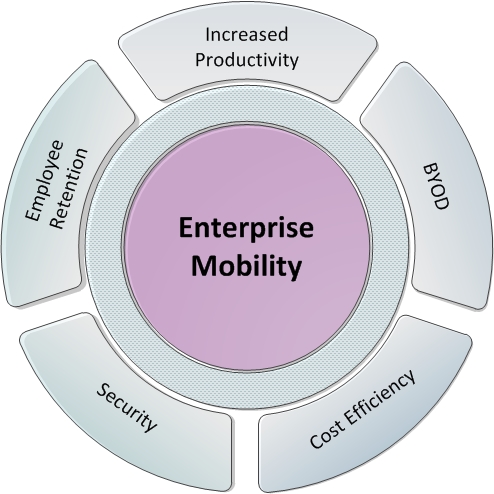 Identifying commonly used applications (such as e-mail, file sharing, ...) within the corporation is the first step in EMM. Working with the employees to use their own devices increase productivity while decreasing cost.
Increased Productivity

Using Cloud Computing, the ability to collaborate with others within the company becomes simple and straightforward. Providing the flexibility to the employees to better manage their lives and work increases productivity.

Bring Your Own Device (BYOD)

Providing the device of choice for the employees helps to give a consistent experience irrespective of the remote location. The employees can use the machines and environments to which they are most comfortable.

Cost Efficiency

Productivity and cost efficiency must be balanced with Enterprise Mobility, which entails closely monitoring the profitability of each employee.

Security

Key aspect of Enterprise Mobility is ensuring the security of the corporate data. Our EMM tools monitors changes in the system security and immediately addresses any potential risks or vulnerabilities within the device.

Employee Retention

When employees are given the flexibility in the work hours and location, employee retention is increased. Using several monitoring tools and devices, we can ensure a balance between corporate cost efficiency and employee satisfaction.